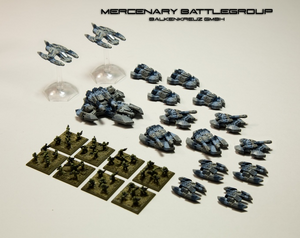 In the
Story
of Polyversal, the
OPFOR
and opposing
United Nations
occasionally hire Mercenaries for security and other missions. Mercenaries such as Balkenkreuz GmbH are well-equipped, well-trained, and ruthless. They will accomplish just about anything for the right price.
Balkenkreuz GmbH
Edit
Led by CEO Victor Koenig, Balkenkreuz GmbH originated in Germany for a single purpose- money. Driven by personal gain rather than any particular cause, those who fight for Balkenkreuz GmbH are feared worldwide.
Organization Details
Edit
Section to be added...