Welcome to Polyversal
Edit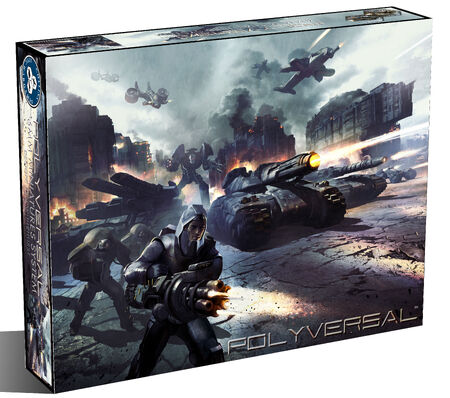 Polyversal is a science fiction tabletop wargame set in the near future. This wikia is intended for players and fans to contribute to the Polyversal story, add their own combatant designs, campaign settings, short stories, and scenarios. Help us grow Polyversal and create a rich community-driven tabletop wargame.
Tabletop Miniatures Game
Edit
Polyversal was funded thanks to 390 backers in June of 2016 via Kickstarter. The game is a mass-combat miniatures system compatible with all 6mm-15mm Science Fiction Miniatures from any manufacturer. Polyversal is designed by Ken Whitehurst and published by Collins Epic Wargames. Game release is expected in Summer of 2019.
In 2130, a war begins among the United Nations, a future powerful governing body, and the Opposition Forces that reject their power, oppression, and dystopian selection process for those chosen for evacuation from a dying Earth. Mercenaries from various corporations such as Balkenkreuz GmbH are also a brute fighting force, accomplishing missions using well-trained soldiers and high-tech equipment for the highest bidder. Learn more about (and contribute to) the Polyversal story here.
The Gameplay page previews various aspects of how to play Polyversal and includes tutorial videos linked from the rules using QR codes. Check out the main Gameplay page for an overview of how to play. Check out the Gameplay Gallery to see games in action.
Combatant Design
Edit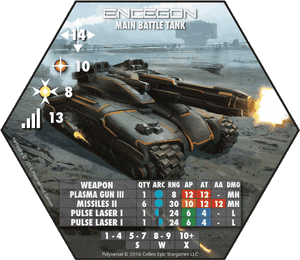 The Combatant Design page acts as a central hub for the upload of "official" and fan-generated Combatant Tiles, which are hexagonal tiles that communicate all of the combat qualities of Combatants within games of Polyversal. These tiles are used not just for stats, but also to represent a visual and functional command structure during games called Battlegroups. Combatant Tiles may be generated using Polyversal's Design App, Arsenal, and the Design Rules of the game.
Latest activity
Edit
Community content is available under
CC-BY-SA
unless otherwise noted.